Man Next Door
My neighbour Kid was 42 when he died. He regularly swept our shared porch, put out the rubbish and kept an eye on things when I was away. As Kid couldn't read well, I helped him with his post. He borrowed my phone whenever he didn't have any credit on his own. Sometimes I wouldn't see him for a while because he was serving a prison sentence for some minor misdemeanour.
Kid had a turbulent life: he was banned from seeing his son and struggled with alcohol and drug addiction. Many people found his bellowing voice and coarse speech intimidating. In the last year of his life, he spent more and more time with drifters and junkies, begging on the street for change. His body was found, floating between two boats in an Utrecht canal.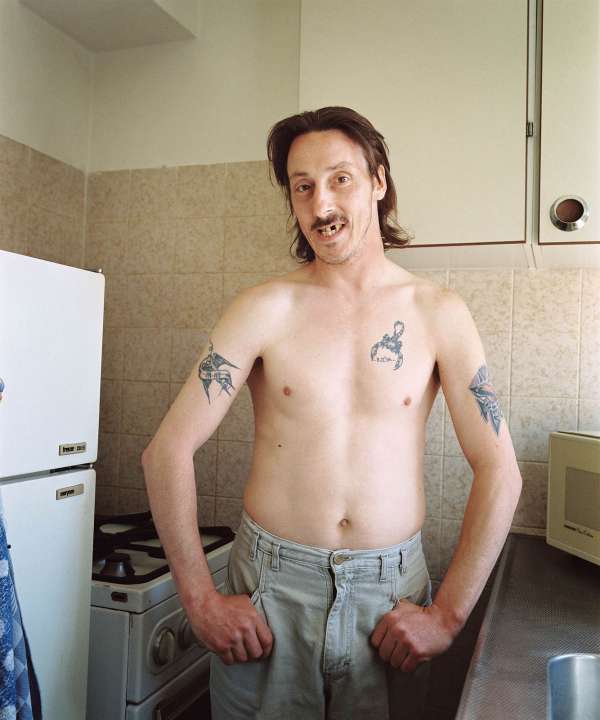 Police dispatched to Laan van Chartroise in connection with reported water damage. Accompanied to the location by fire brigade and forced open front door of upstairs neighbours.
Police called to Café de Luifel in connection with an intoxicated man who was shouting at customers. When police arrived, the man also started shouting at them.
Report received of a man who had become unwell. When officers arrived, the man was lying face down on the ground and was barely responsive.
Report received of a noisy neighbour. Household items had been thrown outside and residents heard shouting. On arrival, everything was quiet in and around the house.
Officer dispatched to Laan van Chartroise in connection with a person who had become unwell. Individual in question was lying on the ground by the front door but was trying to get up when officer arrived.
Officers on Neude saw a man making a nuisance of himself. He was trying to hug people and/or speak to them. He also appeared to be under the influence of alcohol, possibly in combination with drugs.
A man was reported to be pushing an ING cash machine repeatedly. Enforcement officers were found already at the scene. Individual in question said he was waiting for his money and thought it would be deposited today.
Report received from security guard at Coffeeshop Bordeaux on Voorstraat that passers-by were being hassled by a man asking them to buy weed for him.
Officers encountered suspect on Neude. He was arguing with a homeless man. Homeless man claimed that suspect had stolen his shoes. Suspect confirmed this.
Report received of a homeless man who had become unwell. Went to reported location. Suspect had used a combination of drugs and alcohol, causing his blood sugar level to drop dramatically.
Report received of several homeless people in front of the city hall shouting at passers-by. On arrival, we saw five people sitting on a bench who were behaving calmly and had no alcohol with them.
Call received from Coffeeshop Bordeaux that drug addict wearing a red hat was causing a disturbance.
Police saw suspect loitering in the doorway of the old post office. He was given a fine under Article 2.29 of the General Municipal Ordinance (anti-social behaviour in a public place).
Report received of a smashed window in a house on Laan van Chartroise. It turned out that the resident, who also reported the damage, had smashed the window himself because his key would not work.
During night shift, cycled through central Utrecht and issued fines to loitering drug addicts.
Officers called to Diakonessenhuis Hospital in connection with a discharged patient who would not leave. He was therefore arrested and escorted off the property.
Man addressed on the street after bystanders reported he had had an epileptic fit. Individual was barely responsive.
Credits
Film clips are from the movie Willem & Kid made by Het Filmfort / NGN productions.
Texts are based on police reports, documented during Kid's last year of life.
Family pictures are from Kid's photo album.
Concept and photographs by Rob Hornstra.